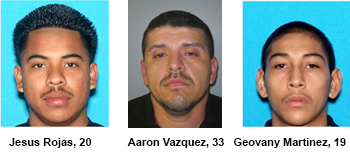 Press Release posted 5/13/15 – On Wednesday May 13, 2015 at 04:00 AM a resident on Grove Lane heard noises in the front of his residence. The resident looked out the window and observed a suspect breaking into his vehicle. The resident went outside and confronted the suspect, who was now inside his vehicle, and a brief struggle ensued. The suspect had a large silver object in his hand which the resident felt was a gun.  Fearing for his safety the resident backed away from the suspect allowing the suspect flee southbound to a dark colored SUV.  As the SUV pulled up another suspect ran out of the residence south of the original victims and fled to the vehicle.
Within minutes of the original call officers spotted the dark colored SUV traveling at a high rate of speed southbound on Baldwin from Sierra Madre Blvd.  A high risk traffic stop was conducted and three suspects were detained without incident. Stolen property and narcotics were located inside the vehicle.
Police Chief Larry Giannone said "we discourage residents from confronting suspects for their safety but are glad the victim is okay. The quick response from the officers was instrumental in apprehending these suspects and recovering the victim's property". Police located additional property in the vehicle and will be attempting to identify other victims.
The three suspects are gang members and have lengthy arrest records. All three suspects reside in El Monte and were booked at the Pasadena City Jail. Bail for each is set at $50,000.