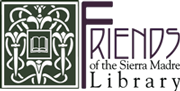 Press Release posted 6/4/15 – The Friends of the Sierra Madre Library announce plans for the June Best Used Book Sale on Friday, June 5 (3-7 p.m.) and Saturday, June 6 (10 a.m. – 2 p.m.)  The Sale will be held in the basement and the parking lot behind the library at 440 West Sierra Madre Blvd.  Just received is a large donation of knitting and quilting books (many with patterns) in pristine condition, ready for those summer projects.  Also in the basement will be newer fiction and non-fiction books, including some current best-sellers.  "Coffee-table" type books on art, history, cooking and contemporary culture will be on our Basement Table, while on the shelves are a great collection of books of every genre, DVDs and audio books, and wonderful children's books.  Yes, that includes Harry Potter and the Chronicles of Narnia!  Check out the "Featured" shelves for Father's Day and Graduation gifts too.
The parking lot will have the ever-popular Bargain Books for only $1.00 each.  Small paperbacks are only 5/$1.00 and a large donation of thrillers and mysteries just came in.  Children's and teen books in the parking lot sell for $.25-$1.00.  Shop early for the best selection.
All proceeds benefit the programs, services and acquisitions of the Sierra Madre Library.