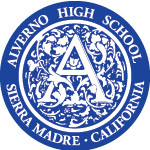 Press Release posted 9/28/15 – The halls of Alverno High School are a little busier this year as Alverno is reporting an increase in enrollment over last year.
"We are thrilled, and grateful, to report that Alverno's enrollment is up 7.75 percent from last school year. Alverno has made a number of improvements over the past few years and we are grateful that our local community has taken notice of these changes," said Julia V. Fanara, Head of School. "As we continue to evolve and grow, we do so while maintaining the values and excellence that have been pivotal to Alverno High School for the past 55 years. The Class of 2015 had a 100 percent college acceptance rate and received more than $1.5 million in scholarships and financial aid; we currently boast 16 AP scholars, and more than half of the Class of 2019 was admitted to Alverno with honors from 25 different feeder schools. It is an exciting time to be a student at Alverno and we invite our community to learn more about the changes we have made."
Ms. Fanara attributes this enrollment increase to several factors. First, building on the school's reputation for academic rigor and success, Alverno has added new Advanced Placement course offerings to the curriculum including AP Calculus BC, AP Chemistry, and AP U.S. Government and Politics. With these additions, Alverno now offers at least two AP courses in all core subjects. The standard curriculum has also been expanded to include ESL for International Students, Forensic Science, Independent Research in Engineering, and Speech and Debate. A total of four new faculty members, with advanced degrees in their fields, were added to the teaching staff to help bring these classes into the curriculum.
In the spring of 2015, Alverno introduced three new merit scholarships: a Head's Scholarship, a Board of Trustees' Scholarship, and the Elizabeth Mahoney, IHM Memorial Scholarship, which help make an independent, Catholic, all-girls education more affordable for more families. A Legacy Scholarship has also been added, which will be awarded automatically to the daughters of Alverno High School alumnae, beginning with the Class of 2020, so that the Alverno tradition may continue in their family. Recognizing that private school education is a luxury for most families, particularly in a tough economy, Alverno has committed to offering more scholarship support to families than ever before. At Alverno, the saying is "If you think you can't afford an all-girls, independent, Catholic education—then think again."