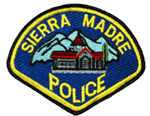 Press Release posted 12/20/15 – At 7:00 am (12/19), a Sierra Madre resident living in the 400 block of N. Canon went out for a morning walk and noticed that his mailbox had been tampered with and mail had possibly been stolen. Shortly thereafter, residents living in the north/east part of town found that their mailboxes had also been tampered with. At this point it appears that approximately 30 mailboxes were tampered with and the incident occurred overnight between Friday, December 18, 2015 and Saturday, December 19, 2015.
If you have information on mailbox vandalism, call the Sierra Madre Police Department to report it. Your cooperation helps apprehend violators. The Sierra Madre Police Department will be working with the local Postal Inspector on this investigation. Director of Public Safety, Chief Larry Giannone, wants to remind the residents that identity theft is one of the fastest growing crimes in the United States. One of the prime ways in which these Identity Theft suspects obtain personal information is by stealing mail and your personal mail can be a gold mine to determined criminals. Homeowners should consider replacing old outdated mailboxes with ones that have a locking mechanism.
(Editor's Note: If you may be getting gift cards as presents in the mail, you should also pay special attention to make sure you bring your mail in ASAP.)
Anyone who has information or saw any suspicious activity last evening in the north east portion of Sierra Madre should contact the Sierra Madre Police Department at (626) 355-1414.