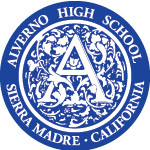 Press Release posted 1/13/16 – The Alverno High School Jaguars (1-1) traveled to face the Sacred Heart of Jesus Comets (1-3) for the first Horizon League game of the season on Wednesday, January 6. The pouring rain did not damper the Jaguars' game plan as thunder-and-lightning teamwork propelled them to victory.
After several offensive attacks that ended in off-sides calls, the Jaguars' first goal came at the 20th minute. Junior forward Britni Delgado (11) dribbled the ball to the left-outside past defenders. Her shot hit the post and ricocheted directly to co-captain and senior midfielder Isabel Diaz (9). Diaz, returning from an injury during the game against Hoover High School, shot it straight into the back of the net to give the Jaguars a 1-0 lead.
At the 32nd minute, freshman forward Megan Cavender's (7) shot was deflected by the diving Comets goalkeeper.  Senior forward Emma Cavender (19) put the ball back towards the goal; but the wet ball slipped out of the goalkeeper's gloves.  Megan Cavender (7) was there to shoot it back into the goal and give the Jaguars a 2-0 lead going into half-time.
The Jaguars continued their offensive control in the second half.  At the 54th minute, freshman midfielder Beatriz Rivas (16) sent a textbook cross to the goal for co-captain and senior defender Dina Der Vartanian (8) to score and extend the lead to 3-0.
Outstanding defense by Der Vartanian, junior Nicole Lianto (6), sophomore Nicole Oberhammer (17), and freshman Elisia Bendy (2) and ball control in the middle by junior Larissa Hernandez (21) and sophomore Subrina Hamdan (4) kept the Comets offense at bay.  Sophomore goalkeeper Ayanna Melin (1) came away with her third shut-out of the season.
The Jaguars' next game will be Wednesday, January 13 against the San Gabriel Mission Pioneers at San Gabriel Mission High School.