Friends of the Sierra Madre Library Wine and Cuisine Tasting Coming Feb. 19th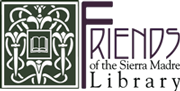 Press Release posted 2/13/16 – Friends of the Sierra Madre Library are excited to present the 46th Annual Wine and Cuisine Tasting Benefit. The event will be held on Friday evening, February 19, 2016, from 7:00-9:30pm at Alverno's historic Villa del Sol d'Oro, located at 200 N. Michillinda Avenue, Sierra Madre, and will be an elegant affair featuring more than two dozen vintners providing superb wines and local restaurants offering creative food and desserts.
Tickets to the premier event are $80 and allow early admission at 6:00 pm. Those at the premier event will enjoy a variety of wines from Giesen Wines, New Zealand, and delectable hors d'oeuvres from local Pasadena restaurateur and award winning chef, Claud Beltran of Claud & Co. Catering, The Eatery, and Bacchus' Kitchen. A chance to win a very unique wine basket will be offered again this year. Tickets to the main event are $60 and provide admission at 7:00 pm. Both will be on sale, beginning mid-December, at the Sierra Madre Public Library, The Bottle Shop, Savor the Flavor, and Arnold's Frontier Hardware & Gifts, as well as currently on line at https://www.eventbrite.com.
The Benefit is sponsored by the Friends of the Sierra Madre Library, an all-volunteer organization dedicated to supporting our community Library. All funds received from this event support the Sierra Madre Library. For more information about the event or Friends of the Sierra Madre Library visit our website at www.sierramadrelibraryfriends.org