Official Trail Race page – www.MountWilsonTrailRace.com
News Net main Trail Race page – with links to coverage of past years' races
Official 2016 Mt. Wilson Trail Race Results
Finisher photo page 1, finishers 1 – 43
Finisher photo page 2, finishers 44 – 95
Finisher photo page 3, finishers 97 – 122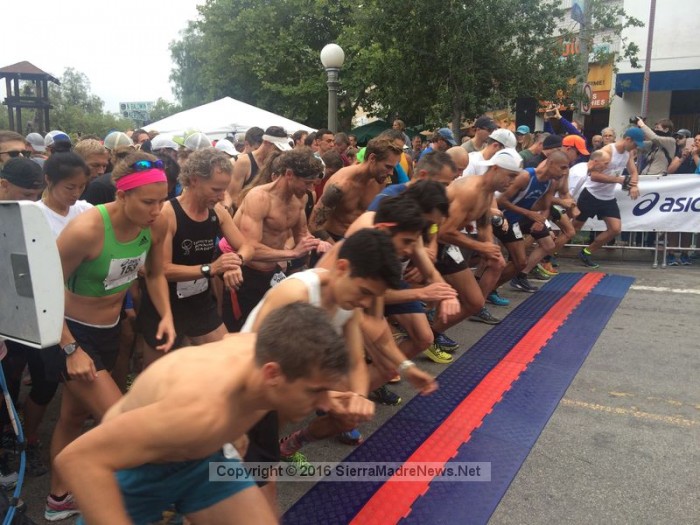 Posted 5/28/16 – Adrian Diaz took first place overall in today's Mt. Wilson Trail Race, and Mireya Vargas, who won in 2013 and 2014, returned to the winner's position after finishing second in 2015. Jon Clark of Trabuco Canyon came in second at 1:03:15, and third place went to Chistopher Kollar of Burbank, who finished at 1:04:16.  Mr. Clark, who w0n the race in 2012, also finished second in 2013 and 2014.  Among the women, Nicole Judd of Temecula came in second with a time of 1:18:10 and Heather Huggins of Monrovia finished third at 1:21:10.  Top Sierra Madre finishers were Stephen Law, Jonathan Ghiloni and Filiberto Arizmendi, and the top female Sierra Madre finishers were Lisa Cardela,  Annemaria Damen and five-time female champ Sharon Pevsner.
This year's race was the 50th race, and celebrated 108 years since the first race in 1908.
Thirteen year old Devin Ito of Chino led the 10-14 year old female division with a time of 1:22:45 and eleven year old William Gardner of Sierra Madre took first place in the 10-14 male age group at 1:31:13.  More coverage to follow.