Posted 1/10/17
Sierra Madre Police Department Police Blotter Report
January 1, to January 8, 2017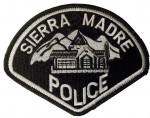 During this time period, the Sierra Madre Police Department responded to approximately 214 day and night time calls for service.
Tuesday, January 3
A report of a stolen vehicle from the driveway of a home in the 400 block of Santa Anita Ct. between the hours of 6:00 p.m. on 1/2/17 and 6:00 a.m. on 1/3/17. The vehicle is a Black, 2014 Mini Cooper.
Case to Detectives
7:49 a.m.
Officers were dispatched to the 00 block of Monterey Lane regarding a theft from a vehicle report. The victim informed the officers that sometime between the hours of 6:00 p.m. on 1/2/17 and Tuesday 1/3/17 at 7:00 a.m., unknown suspect(s) had broken into her locked vehicle parked in the driveway. The suspect(s) possibly used a screwdriver to force the door lock open and enter the vehicle. Missing are personal items and a small amount of cash.
Case to Detectives
5:58 p.m.
A hit and run occurred in the rear parking lot in the 00 block of Sierra Madre Bl. Responding officers conducted a traffic stop on the vehicle. After the investigation, officers determined that the driver was DUI. He was arrested and transferred to Pasadena Jail where he was booked.
Case referred to Pasadena DA's office for filing consideration
Wednesday, January 4
A resident in the 500 block of Grove St. was contacted by a neighbor at about 5:00 p.m. that the front door to her residence was wide open. It appears that unknown suspect(s) entered the residence through a rear door by smashing through the glass apparently using a blunt object.
Case to Detectives
Thursday January 5
At about 11:02 a.m., the SMPD received an assist call from the Arcadia Police Department regarding burglary suspects fleeing a location in the area of Grandview Ave and Santa Anita Ave. As officers from both departments cordoned off the area, a resident called her neighbor in the 1900 block of Vista Ave. to inform her that there were two suspects in her backyard. The resident called SMPD dispatch and reported that the suspects were in her back yard. The suspects were seen running from the location when they were apprehended and taken into custody without further incident. The suspects were transported to Arcadia Jail and booked.
A case of See Something Say Something by a vigilant Sierra Madre resident.
Friday, January 6
SMPD dispatch received call at about 8:30 a.m. that someone trimming a tree had fallen. Arriving officers were told that the person cutting the branches had fallen from the tree striking the ground. Efforts by SMFD to revive the victim were unsuccessful and he succumbed to his injuries.