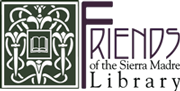 Sierra Madre Public Library's popular Adult Summer Reading Program is now in its fifth year.  This year's theme is "Novel Destinations," which will showcase fiction and nonfiction books on Travel and World Culture.  There are many ways to "see" the world through print and audio books, so you can indulge in the genre of your choice and "travel" anywhere that strikes your fancy.  Books in print, on CD, Playaway, or read via e-reader all qualify—so take your pick of media and read, read, read!  The program is open to anyone 18 years and older, and will run eight weeks, Monday, June 20 – Saturday August 13.  Sign up early and read widely to take best advantage of the weekly prize drawings, which have been generously donated by local merchants.  Participants may win one weekly prize during the course of the program.
Once again a Grand Prize Drawing for a Kindle will take place at the program's conclusion. 
Registration is free and may be done in person at the Library or online any time on or after June 20.  To register online, visit the Library's website, www.sierramadre.lib.ca.us, and click on the Summer Reading Program button.  For more information call Polly Bonnett at 626-355-7186 x 105. The Adult Summer Reading Program is funded by the Friends of the Sierra Madre Library.