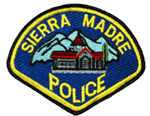 On Tuesday morning, June 7th, a resident was in his home in the 300 block of E. Montecito Ave. when he heard loud banging on his front door.  The victim looked through the blinds and saw two unfamiliar men.  The victim did not answer the door, but watched as one man drove a pickup truck down the driveway.  The other man put on gloves and walked towards the rear of the home.  The victim grabbed a cell phone, called 911, and ran upstairs.  As the victim was on the phone with the dispatcher, the two suspects broke into the home.  The victim hid upstairs, and continued to provide the dispatcher with updated information. 
Police arrived in the area within a minute and found the suspect vehicle, a blue pickup truck with a single lawnmower in the bed, backing out of the driveway. Officers tried to stop the vehicle; however, the driver did not comply and a short vehicle pursuit ensued.  Officers stopped the suspects on Mountain Trail Ave., where they were taken into custody without incident.  Officers found the victim's stolen property inside the truck.
Luis Loya and Adrian Rodriquez, both 18, of Pasadena, were booked for residential burglary and taken to the Pasadena City Jail.  Bail for each was set at $50,000.00.
Captain Larry Giannone said, "The victim in this case did a great job by calling 9-1-1 immediately and providing the dispatcher with accurate information throughout this horrifying event.  His actions, along with the officers' quick and effective response, resulted in the arrest of two burglary suspects and the recovery of stolen property."