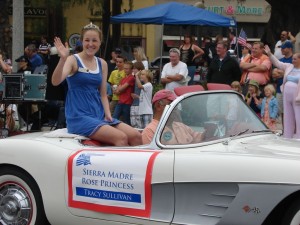 Calling all convertibles, calling all convertibles! The City of Sierra Madre's annual 4th of July Parade is in need of your assistance. Let your car shine like a firework as you transport the parade's VIP's down Sierra Madre Blvd. Let us showcase your pride and joy and as we together proudly celebrate the birthday of the United States of America.  If this sounds like the opportunity your vintage, classic, snazzy convertible has been waiting for please contact call 626.355.5278 or email city@cityofsierramadre.com.
The 2011 4th of July Festivities will begin with a Community Picnic on Saturday, July 2, 2011 in Sierra Vista Park. From 3– 8 pm there will be swimming, picnics, a home-run-derby and much more. The celebration will continue on July 3rd in Memorial Park from 5-10 pm with the traditional "Bubblewrap Fireworks", beer garden, food booths and a performance by Mercy and the Merketts. The 4th of July will start off with a bang and the new 5K Firecracker Fun Run. The run will begin at 7:00 am in Kersting Court and run a loop along the parade route. The traditional hometown parade will begin at 10 am and will be followed by activities in Memorial Park.
Anyone interested in registering to participate in the 5K Firecracker Fun Run or in the 4th of July Parade can do so online at www.cityofsierramadre.com/onlineregistration. For more information on all of the 4th of July Festivities, please call 626.355.5278.