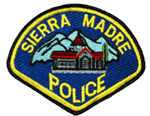 During the week of Sunday, June 5th, to Saturday June 11th, the Sierra Madre Police Department responded to approximately 279 calls for service. See crimereports.com for updated information. 
Sunday, June 5th:
12:01 AM- Possession of Alcohol Under 21 yrs old, Auburn parking lot.  This case involves four minors from Sierra Madre, Los Angeles, Agua Dulce, and Northridge drinking in a public parking lot.  The four minors were detained and released with a citation for underage drinking.
Monday, June 6th: 
1:00 PM- Vandalism/$400 or More Damage, Bailey Canyon Park.  A Pasadena resident parked his vehicle in the Bailey Canyon parking lot and went hiking. When he returned he saw that his car had been vandalized. The suspect scratched an obscene phrase on the car's side front door.          
Tuesday June 7th:
10:10 AM- Residential Burglary, 300 blk. E. Montecito Ave.  A resident was home when he heard loud knocking on his door.  He looked outside and saw two Hispanic men, one of whom was driving a pick-up truck with a lawnmower in back, down the victim's driveway.  The second man was walking behind the truck, putting gloves on. The two men broke into the rear of the house, and the victim ran upstairs and called police.   The suspects ransacked the house and fled when the victim turned on the bathroom water.  Officers arrived within a minute and tried to stop the suspects as they drove away.  The suspects drove through three stop signs before yielding to police on Mountain Trail south of Sierra Madre Blvd.  Officers arrested the two occupants for burglary after finding the victim's property in the truck and a witness positively identified the suspects. Both suspects were 18 and from Pasadena.  Police took them to the Pasadena Police Department Jail for booking.        
Wednesday June 8th:
11:34 AM- Fraudulently Obtaining Money/Property/Labor, 400 blk. Mariposa Ave.  A resident reported that she was a victim of grand theft by means of a fraudulent transaction.  The victim wired money via Western Union for a shipping cost, which was to ship merchandise to a customer in Malaysia.  Both the shipping company and the recipient turned out to fraudulent.  The loss was $9,825.00 in shipping fees and merchandise. 
Friday, June 10th:
1:33 PM- DUI Alcohol/Drugs, Mountain Trail and Orange Grove. An officer stopped a 33-year old Arcadia motorist for a Vehicle Code violation and determined that the driver was under the influence of alcohol.  The driver was arrested and transported to Pasadena Police Department for booking. 
2:43 PM- Minor Driving With a Prohibited Blood Alcohol Content, 600 blk. E. Sierra Madre Blvd.  An officer stopped a 20-year old Monrovia man for a Vehicle Code violation and determined that he had a blood alcohol content of .051%. He was not impaired to the point that he was not able to safely drive.  The car was stored and the driver was released with a citation.
Saturday, June 11th:
10:10 AM- Petty Theft, 100 blk. N. Auburn Ave.   A resident reported that an unknown suspect stole two black solar power lights and a baseball catcher net from her property. 
4:10 PM- Use Another's Personal Identification to Obtain Credit/Etc.  A resident  tried to open a new cell phone line and learned that a fraudulent Verizon account was opened under his name in 2006 in Lancaster, CA.