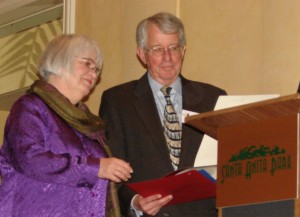 Amy and Glenn Putnam were recognized as Sierra Madre's 2010 Citizens of the Year at the Chandelier Room at Santa Anita Park on Saturday, Jan. 22nd, 2011.  More than one hundred people turned out, many of them representatives of organizations that the two have volunteered with.  On hand were members of the Sierra Madre Historical Preservation Society, The Civic Club, The Sierra Madre Garden Club, Friends of the Library, the Library Board of Trustees, Kiwanis, The Chamber of Commerce, and JPL, where Glenn works.
Mayor Joe Mosca served as master of ceremonies, opening the evening by recognizing people in the crowd from City administration, among them Mayor Pro Tem John Buchanan, Director of Library Services Tony Buckner, Community Services Commissioner Pat Alcorn, Volunteer Services Coordinator De Alcorn, and former Mayors Bart Doyle and George Maurer.
Also on hand to congratulate the Putnams were former Citizens of the Year Louise Neiby – 2009, Carol Canterbury – 2001, Marilyn McKernan – 2000, Judy Webb-Martin – 1998, and George Maurer – 1974.  Former COTY Shirley MacGillicuddy was a last minute cancellation when she became ill the day before the event.
Civic Club president Carol Cerrina, Friends of the Library president Margaret Quigley, Sierra Madre Garden Club President Jerry Durgerian and Kiwanis President Susan Henderson were also in the crowd. 
Glenn Putnam has been a member and Board member of the Sierra Madre Historical Preservation Society for more than five years, and is currently the marketing director for the organization.  For more than ten years, he has been a vine docent and assisted with bus coordination at the Wistaria Festival.  He was named a Library Trustee in 2010, a position which actually caused him to resign from the Board of the SMHPS to avoid conflict of interest.  He is past  president of the Sierra Madre Garden Club (2003 – 2008), and has been active with Creative Arts Group, serving as a docent at the Home and Garden Tour and helping to staff their annual Flea       Market.  In addition to all of these Sierra Madre volunteer efforts, he is also involved with the Tournament of Roses serving for more than ten years as one of their White Coat volunteers.
His wife Amy is also active with the Sierra Madre Historical Preservation Society.  She has been a member and Board member for more than five years, and is currently serving as treasurer. She assisted with recruiting volunteers for the Society's booths at the Wistaria Festival, the Art Fair, and the Fourth of July festivities in 2010.  She was appointed to the Senior Community Commission in 2010, and has also served as a Wistaria Vine docent for more than ten years. 
In addition to serving as president of the Civic Club in 2009/2010, she served as  Parliamentarian  in 2003-2004, Treasurer  in 2004-2006, and Education Awards Chair from 2006-2008.  In the past, she has served as a docent on the Garden Tour for Creative Arts and filled a variety of leadership roles with the Friends of the Library, as president in 1997 and 1998 and on the Board for ten years in various capacities.  She also served as chair of the Friends'   annual  Wine Tasting for two years (1997 & 1998) and sat on the Wine Tasting Committee for 10 years.  In addition, she has  volunteered at the Chamber, and in 2005 even won the Chamber's Chili Cook-off.
In addition to all she does in Sierra Madre, she is newly on the Board of Los Voluntarios, the volunteer group which supports the LA County Arboretum.  She's in charge of coordinating the volunteers who staff the Visitors' Services Office. 
Susan Henderson introduced the Putnams, and informed the crowd that Amy Putnam is the third consecutive member of the Tri-Delta Sorority to be named Sierra Madre's Citizen of the Year.  Last year, Dr. Paul and Louise Neiby were Citizens of the Year , and Louise is a member of the Tri-Deltas.  In 2008, Angel Throop won the award.  Mrs. Throop is also a member of the sorority.
After receiving certificates sent to the event from Congressman David Dreier, State Senator Bob Huff, Supervisor Michael Antonovich and the City of Sierra Madre, Amy Putnam got up and spoke briefly, long enough to make a joke about a role reversal taking place on stage, saying that it "really has been fun, becoming fun, and working with you all, and I look forward to a lot of years of the same, but I'm not going to speak a lot tonight, because actually, my husband has written a marvelous speech, so since you rarely get to hear him speak, I'm going to turn this over to him…"  Glenn Putnam then thanked the audience.   "…it has been very special…it means a lot to both of us to share this honor with colleagues, such as my colleagues over at JPL who are sitting over here, and friends from the Arboretum, the Civic Club, the Sierra Madre Library, the Sierrra Madre Garden Club, the Sierra Madre Historical Preservation Society, and friends from out of town, and also our family."   He noted that he and Amy had moved to LA in 1992.  He said that a relocation agent had suggested a house in a town adjacent to Pasadena, and they looked at a house on West Alegria which was the best house they'd seen, was in the right price range, and "then there was this crazy neighbor across the street by the name of Roger Keith, who seemed actually glad to see us… I rented the house, and the rest is history.  We put our roots down and we bought two years later." 
He discussed their early years in town, including his encounter with "the welcome lady."   He discussed misperceptions he and Amy had about L.A., such as the idea that there are no small towns, that L.A. is always warm and you don't need a jacket, and that the crime rate would drive you back to the midwest.  He expressed appreciation for the fact that small towns such as Sierra Madre DO exist, and added "what can I say about the Sierra Madre police force, this has been wonderful, it has made us feel very secure in our town, thank you so much Marilyn for such a wonderful job that you do."
He noted that the reason they had gotten involved in volunteerism was "pure and simple, curiosity, a want to give back to organizations that helped us when we were growing up, and a desire to learn more about topics that interest Amy and me."  He noted that we as a community need to involve more people in volunteering, especially the young people.  He noted that the most dangerous phrase in the Putnam house is "Wouldn't you like to…"  He acknowledged his role as "Amy Putnam's husband," and added that "being known as Amy Putnam's husband is not a bad thing to be known as in Sierra Madre, and I thiak Amy for the honor it has been to me throughout our marriage."
Mayor Mosca then presented Matt Krantz, president of the Chamber with Certificates from the city, the Supervisor, Senator Huff and Congressman Dreier.  Earlier in the evening, Krantz had introduced the 2011 Board of Directors of the Chamber, consisting of Allyn Colbert, Henderson, Krantz, Sue Lamb, Janette Ledea, Kate Lee, George Maurer, Maddie Romo and Neil Vance.