4th of July Festivities Online Now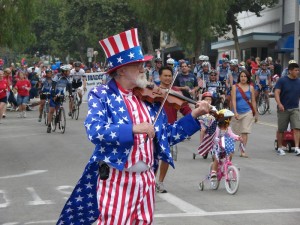 One of the challenges of revising the website back in January was trying to figure out how to make it all work, blending the old and the new.  With thousands of pages/articles going back to 1998, I obviously wasn't going to redo the whole thing.  But the categories/tags/search engine on the home page were only going to work on things created in the new webstyle.  So, I punted.  I did a little bit, and figured I'd add a little bit as time goes on.
I've recently created a new page for the 4th of July section of the site, you'll see it on the top right of all the new pages of the site.  All the old pages are there, still, but now the new page is there, too.  On it, you'll find a brief write-up of this year's schedule of events, and links to 4th of July pages (in the old part of the site) going back to 1999.  Interesting thing I discovered though, in doing this.  I had never uploaded the 2010 pictures and videos.  So they've now been added, and are in the new style.  Which means, if you click on the events category on the right side of the page, it will be among the results on the page that pops up.  Better yet, because events is such a general category, if you click on SM 4th of July in the "Tag Cloud" to the right, you'll get a look at all the pages that have that "tag," which at this point is just the 2010 and 2011 pages.  There's a video concert page with two videos of Aluminum Marshmallow and three from Rocktail, plus an armed forces medley by the Nighblooming Jazzmen, a still photo concert/non-profits in the park page from July 3rd with Aluminum Marshmallow, a similar page from July 4th with Rocktail (and one photo from the movie in the park, it was kind of dark to take a lot of pictures), there's a pre-parade and Woman's Club Open House page, 3 pages of parade pics (the third also has a collage of video snippets I took during the parade), and there's a post parade page with a video of some of the water balloon toss.  the easiest way, of course, is just to click on the 4th of July link above, or type www.SM4thofJuly.us in your browser, and then click on the link to 2010.