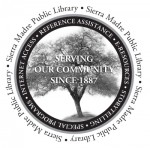 Do you have a personal story to tell, but you're not sure how to tell it?  Have you lived an interesting life that others would find fascinating?  Would you like to record your family history, but you don't know where to start?  Then this program is for you!
Denise E. Clemen, who holds an MFA in Creative Writing from the University of Nebraska, will facilitate a Memoir Writing Workshop for adults and high-school age teens at the Sierra Madre Public Library on Thursday, February 24, at 7:00 p.m. 
For anyone aspiring to write, it's never too early—or too late—to begin, as Ms. Clemen can attest, as she did not begin writing until the age of 49.  The diverse and unusual jobs she has held over the years, which include waitress, art model, au pair in Paris, and assembly-line worker for toy manure spreaders, actually proved to help, not hinder, her creative urge to write.
Ms. Clemen has been the recipient of numerous fellowships, and has been published in juried literary magazines, including the Georgetown Review, for which she received honorable mention for the prestigious Georgetown Review prize.
This workshop is free and open to the public, but registration is required, as seating is limited.  You may register in person, or by calling 626-355-7186. The Sierra Madre Public Library is located at 440 West Sierra Madre Boulevard in Sierra Madre. www.sierramadre.lib.ca.us