FOR OBITUARY UPDATE, SEE BELOW SMSR LOGO
We have received word that Dick Sale, 34-year member of the world-famous Sierra Madre Search and Rescue Team and a long-time member of the Eagle Rock Community, passed away last night.  Sale had suffered a "hemhorragic stroke" on Feb. 2nd, and was at Huntington Memorial Hospital when he died. 
According to team member Susan McCreary, she was on a missing hiker call in Monrovia when Arnold Gaffrey, who was Operations Leader on the search, announced over the radio shortly after the missing hiker was found safe that "the subject at HMH (Huntington Memorial Hospital) has completed his assignment and no further assistance is needed."  All of the search teams in the field knew Dick had passed on.  Gaffrey, by the way, was a Boy Scout during Sale's tenure as a Scoutmaster from 1962 – 1971. 
According to McReary, Sale was known and respected throughout the Search and Rescue community world-wide, and had been instrumental in bringing Taiwan's S & R operations from nearly non-existant to respectable, having made two trips per year to Taiwan for the last ten years, to assist with creating and improving teams there.  In fact, Sale is widely regarded as the father of Search and Rescue in Taiwan. 
Cindy England, who years ago was rescued on Mt. Baldy by a team on which Sale was a member, and who now serves on the Montrose Search and Rescue team, had this to say in an e-mail after Sale's passing: "If you want to build a ship, don't drum up the people to collect wood and don't assign them tasks and work, but rather teach them to long for the endless immensity of the sea." – Antoine de Saint-Exupery.   "I read this the night that Dick's condition worsened and it really resonated, reminding me of how Dick so instilled the love of the mountains in each of us. I have always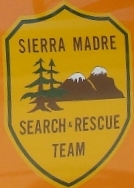 called him one of my hero's, and introduced him as such. He has left a huge hole in the mountain rescue community, and it won't be filled easily. He will be missed. " 
Sale first became acquainted with Sierra Madre's Search and Rescue Team in 1975, when he was at Yosemite and SMS & R was there on a rescue.  Long-time Sierra Madrean, S and R team member, and 2007 Sierra Madre Older American of the Year Russ Anderson had this to say: "I first met Dick in Yosemite on a search in 1975 before he joined the team.  I could not ask for a better friend or mentor.  I called him many times with questions about radios, navigation and computers.  I felt honored to have machined a few things for him over the years.  He would show up in my shop and ask me to do something on an antenna or a flashlight he was modifying.  It was a privilege to go two different times with Dick to Taiwan.  It was his passion to teach the Taiwan Search and Rescue Teams and he did an outstanding job.  Today I have been thinking about the good times we had together and struggling with the fact that I won`t see him again." 
Sale is survived by his (second) wife Melody, and two sons, Terry Sale of Denver, Colorado and Jeffey Sale of Orange County.  A third son, Donald, pre-deceased him several years ago.
DICK SALE OBITUARY
Alfred R. "Dick" Sale of Eagle Rock, a long time mountain rescue volunteer, died February 14 at Huntington Memorial Hospital. He was 80. Dick, a renowned wilderness search-and-rescue authority, electronics hobbyist and HAM radio operator, was easily recognized by his full beard, belt and red suspenders, bolo tie and his Stetson hat. His motto was: "Mountains and wilderness don't care, you take care, be safe".
He was born on September 15, 1930 in Altadena and spent his boyhood at Switzer's Camp in the San Gabriel Mountains, where his mother was the camp cook. He worked at Rockwell as a photographer specializing in high speed photography and worked with the NASA space program in the 1960s and '70s.  He married his first wife Barbara in 1950, and together they raised three sons.  After her death in 1973, he carried on as a single father.  Always civic minded, Dick served on the Civil Defense Commission and the Traffic Commission for Temple City, and won election to Barbara's seat on the Temple City School Board after she died. 
Sale enjoyed teaching children and adults about wilderness safety. From 1962 to 1971 he served as Scout Master of Boy Scout Troop 157 in Temple City. He became an accomplished mountaineer and volunteer group leader for the Sierra Club Angeles Chapter's Basic Mountaineering Training Course (BMTC) from 1971 to 1976. He then joined California's first mountain rescue team, Sierra Madre Search and Rescue (SMSR). He enjoyed a long and storied affiliation with the American mountain rescue community and was active as an SMSR operations leader, working with the sheriff's department, organizing wilderness searches and rescues both locally and internationally until his passing.  From 2001 onward he made regular trips to Taiwan as the lead instructor for that nation's mountain rescue teams, which formed under his guidance, and whose members consider him the father of Taiwan Mountain Rescue.
 He is survived by his beloved wife of 28 years, Melody Peterson of Eagle Rock, and his two surviving sons, Terry Sale of Denver, and Jeffrey Sale of Orange County, and six grandchildren.  He is pre-deceased by his second son David.  Memorial services will be announced, to be held in the local mountains in the spring.