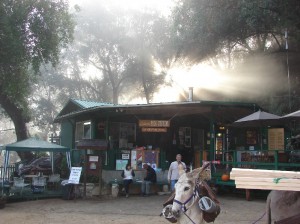 The Sierra Madre Chamber of Commerce will hold a rare Sunday Mixer and Ribbon Cutting on July 17th from 5 to 7pm, to help Adams Pack Station celebrate 75 years in business.  The Pack Station, located at Chantry Flat at the top of Santa Anita Ave., still runs a weekly pack of mules into the Santa Anita Canyon to bring provisions and supplies such as propane tanks, food, mattresses, and other items too large or heavy to carry in by hand to the cabins located in the hills. 
The Pack Station's general store will be open for business to hikers and others, but those who pay to attend the mixer ($7/Chamber members, $10/non-members) will receive a ticket they can redeem for the Pack Station's well regarded Pulled Pork sandwiches and a glass of wine.  Beer and other beverages will be available for purchase.
Live entertainment will be provided by Rubber Soul, a Beatles tribute band.  In addition to the ribbon cutting, a business card drawing will be held for door prizes donated by the Chamber and Chamber members.
Those attending who can do so may want to consider carpooling up the hill, because if there is a strong turnout in combination with good weather for hiking, there may be difficulty finding parking.