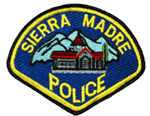 During the week of Sunday, February 13th, to Saturday February 19th, the Sierra Madre Police Department responded to approximately 366 calls for service. See crimereports.com for updated information.
Friday, February 18th:
4:43 PM- Petty Theft, Montecito Ct. Unknown suspect(s) stole an unlocked blue Moongoose dirt bike in an alley behind Bean Town.
10:40 PM- Possession of Marijuana in Vehicle, W. Sierra Madre Blvd. During a check at Buccanneer Bar an officer contacted three adult male subjects in a vehicle, due to a strong odor of Marijuana. The owner of the vehicle admitted to possessing marijuana and was cited. Further investigations revealed that the other subjects in the vehicle were on probation and one had an outstanding warrant. The subject with the warrant was taken to Pasadena Police Department Jail for booking.
Saturday, February 19th:11:49 PM- Parolee Arrested, Don Diablo and Foothill Ave. An officer stopped a motorist for a Vehicle Code violation. Further investigations revealed that the driver was in possession of a glass smoking pipe used to smoke crack cocaine. The driver was arrested for possession of drug paraphernalia. It was later determined the driver was a parolee with an outstanding felony warrant. The Highland Park resident was transported to Pasadena Police Department Jail.