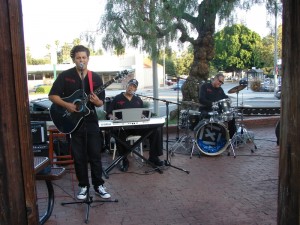 July 31, 2011 – Rock and Roll Hall of Famer Ron Ellington Shy got this summer's Friday Night Live, presented by the Sierra Madre Chamber of Commerce, off to a rockin' start on the 29th, with an appreciative crowd spending much of the evening in Sierra Madre's Kersting Court watching Shy perform songs by Otis Redding, Dobie Gray, Sam and Dave, and many others. In fact, from the Chamber's perspective, the music may have been a little too good.
"We very much appreciate Bean Town sponsoring Mr. Shy and his band as the week's entertainment, said Chamber Executive Director Bill Coburn. "The music was so good that people were hanging at the park, instead of going to the shops. The up side to that is that people will have a better chance of winning the big shopping spree on the final night, since we didn't have as many people enter the contest last week. So hopefully we'll have more people popping into the stores and restaurants in the next four weeks to get in the contest, since the odds will be so good."
Friday Night Live is an annual Sierra Madre event in which the Chamber of Commerce invites folks from all over to come enjoy music in the town "square", dine in local restaurants, and shop in the village stores. Shoppers who spend $35 in a retail store or $50 in a restaurant can then bring their receipt to the Chamber booth to be entered in a drawing to be held the final night of Friday Night Live, August 26th. There will be two prizewinners picked, each receiving a Sierra Madre shopping and dining spree valued at about $500.
The entertainment for this week is Sierra Madre resident Mike Tims, formerly of The New Christy Minstrels, sponsored by Mountain Views News. Mr. Tims will sing and play a wide variety of favorite songs for all ages.
New to Friday Night Live this year are weekly themes, this week being "Outrageous Hat" week. Shoppers wearing outrageous hats downtown Friday may just win a $25 gift certificate to Butterfly Effect Day Spa.
Friday Night Live is held from 6:30 to 9pm each Friday in late July and August, this year through August 26th.
Below the photo gallery, you'll find several videos of the band performing.
"Drift Away"
"Hold On"
"Cherry Pie"
"It's Just a Matter of Time"
"Hold Me, Thrill Me", featuring Taber Shy on vocals