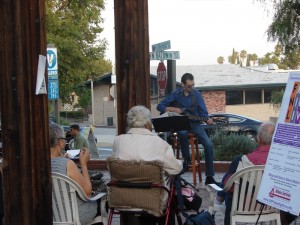 August 21, 2011 – Guitarist Dan Rotten performed in Kersting Court as part of Friday Night Live, put on each summer by the Sierra Madre Chamber of Commerce. 
There was a "Future's So Bright" theme for the evening, with shoppers encouraged to wear their coolest "shades".   One lucky young "cool shades" wearer won a Sierra Madre baseball cap.
Anyone who spends $35 in a retail store or $50 in a restaurant during Friday Night Live hours (6:30 to 9pm) is invited to bring their receipt to the Chamber booth in Kersting Court.  They will be entered in a drawing to take place the final week of Friday Night Live.  Shoppers are eligible every time that they spend $35/retail or $50/restaurant – the more times they spend $35/$50 the greater their chances of winning.  On the final Friday, August 26th, two lucky shoppers will have their names drawn to win a shopping/dining spree at Sierra Madre businesses valued at more than $500!  With only five weeks of eligibility, the odds of winning will be quite good for those who are entered in the drawing.
Friday Night Live will take place in downtown Sierra Madre from 6:30 to 9pm through Aug. 26th.  For more information, including an entertainment lineup, list of themes, and a list of businesses participating in the shopping spree giveaway, visit  www.SMFridayNightLive.info  or call the Chamber at (626) 355-5111.