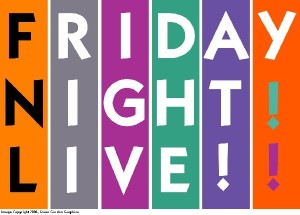 The Sierra Madre Chamber of Commerce has partnered with the Sierra Madre Friends of the Arts to showcase local artists at this week's final night of Friday Night Live.  From 6:30 to 9 pm, Kersting Court will be closed down and Sierra Madre artists will showcase their work.  Some of the artists expected to be on  hand are:
Elizabeth Converse – jewelry, photography, mixed media
Christine Prentiss – note cards, small art, scarves
Grace Cook – oil paintings
Susan Cook – stamping, scrapbooks
Jean Tannhauser – oil painting, prints and cards
Star Higgins – hand painted textiles
Lee Ann Graves – handmade wrist rests.
In addition to the "Art Alley, " their will be a performance of the band Travel by Sea, sponsored by Century 21 Village Realty.  Creative Arts Group, preparing for its Sept. 9th Faculty Show, will feature a "Children's Wall" as they stay open late to participate in the Friday Night Live finale.
Shoppers who spend more than $35 in a retail store or $50 in a restaurant during Friday Night Live can bring their receipt to the Chamber booth in Kersting Court to be entered in a drawing, which will be held as part of this week's closing night festivities.  Two lucky winners will receive shopping and dining sprees valued at nearly $600, donated by local businesses.  For a complete list of the participating businesses and their donation to the Grand Prize packages, visit www.SMFridayNightLive.info.
Also, just to add a little extra fun for the evening, the first 125 people to visit the Chamber booth will receive a free pair of Groucho-style fun glasses to wear while shopping.
This is the third year that the Chamber has staged Friday Night Live during the summer, featuring live music, shopper's incentives and, new this year, theme nights, such as Groucho glasses night. This year, the Chamber was pleased to welcome Silver Level sponsor Athens Services as part of the festivities.