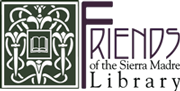 Sept. 4th, 2011 – A windfall of wonderful donations has prompted the Friends of the Sierra Madre Library to share the bounty at yet another Bargain Book Table Sale.  The next one is coming right on the heels of the late August sale, and will be held from Tuesday, September 6, through Saturday, September 10, during the Library's open hours.  Fiction, Mysteries, Current Affairs, Young Adult and Children's Books will be the featured topics.  The table is replenished daily, and books are always $1.00 each.
We welcome books and DVD donations in good condition. Magazines may be placed on the "Free Bench" at the back of the Library, or, if the issues have been published within the last 6 months, they can be brought to the Service Desk for the Library's magazine takeaway section. Please call the number below if you would like directions to the Library or more information on the donation guidelines.
 The Sierra Madre Public Library, located at 440 West Sierra Madre Boulevard in Sierra Madre, is open Monday through Wednesday from Noon to 9 p.m., Thursday and Friday from Noon to 6 p.m., and Saturday from 10 a.m. to 6 p.m. (626) 355-7186. www.sierramadre.lib.ca.us.