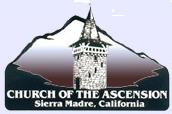 Sept. 4, 2011 – Episcopal Church of the Ascension, 25 East Laurel Avenue in Sierra Madre will be celebrating its annual start of Fall season with the "Ministry Celebration" on Sunday, September 18th following the Mass at 9:30 a.m.
All are welcome and encouraged to this festival of ministries, which features decorated booths that illustrate various church ministries in serving the needy, spreading God's word, educating children, making music and worshipping God. Other opportunities include feeding the hungry, attending to the sick and visiting shut-ins as well as assisting the homeless. Daughters of the King and Cursillo will also have information available. The Church's ministries are great ways to give back and share in opportunities of fellowship at Church of the Ascension.  Refreshments will be served.
The event will provide an opportunity to learn about Christian Education at Ascension Church including sign-ups for Children's Sunday School (Catechesis), Young People's Ministries and for adults to learn about small groups which begin meeting on Sunday, September 25th. Small Groups meet between church services in Parish or Hawks Hall. This ongoing program is facilitated by various parishioners and includes:
Meets in the Hawks Hall Library
Summer Fellowship – Trusting that God will provide
Genesis:12-23 "Abraham & Sarah's Journey"
A parent's group which explores the question: "How can this generation of parents raise self-reliant, compassionate, and ethical children?"
The Rector's Forum is currently reading The Jesuit Guide to (Almost) Everything, a Spirituality for Real Life,  by Jamaes Martin, SJ.
This event makes for a wonderful family outing to meet new neighbors and check out a wonderful community church. For more information, please call (626) 355-1133 or visit: www.ascension-sierramadre.com.