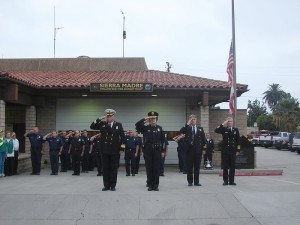 Dozens of people, among them Mayor John Buchanan and City Council member Mary Ann MacGillivray, turned out at the Sierra Madre Fire Dept. this morning to remember the events of 9/11/01. Members of SMPD and SMFD stood silently at parade rest for several minutes, before a region-wide announcement commemorating the events of 9/11/01 was made over the P.A. system by Verdugo Emergency Fire Communications. The announcment was made at 6:59am, to coincide with the 9:59 New York time collapse of the South Tower.  The SMPD and SMFD then saluted as Fire Marshal Rich Snyder sounded a bell in the traditional rite for fallen firefighters.
Following the service, which also included a beautiful wreath donated by Leonora Moss placed alongside the SMFD 9/11 memorial, residents were welcomed into the fire house and enjoyed continental breakfast, donated by Bean Town Coffee House & Bakery.
Below the video, you'll find pictures from the service which you can click on to enlarge.