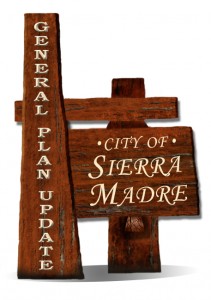 Posted 10/25/11 – At Tuesday's Council meeting, the Council, minus Josh Moran, while taking no formal action, agreed that the Vision and Guiding Principals as laid out for them were satisfactory fot hte General Plan Update Steering Committee to move forward.  The pu rpose of a Vision and Guiding Principles Report is to develop a summary of general goals to be achieved by the updated General Plan.  The Vision provides the foundation for more specific guiding principles, goals, policies and programs to be developed during the update process.
The Vision and Guiding Principles for the Sierra Madre General Plan Update are as follows:
Preserve and sustain Sierra Madre's distinctive character as a historic small town nestled in the foothills, but within a major metropolitan area.
Ensure that Sierra Madre is a safe, vibrant place to live, work, and visit by providing City services that match the needs of the community and promote community engagement.
Protect and be responsible stewards of the neighboring San Gabriel Mountain Foothills' wildlife, forest, open space, watershed and all other natural resources.
Promote and develop a strong diversified local economy and a thriving town center, consistent with the needs of the community.
Ensure development is done in harmony with its neighborhood, while maintaining the character of the town and without unduly burdening existing city services and infrastructure or impacting the environment.