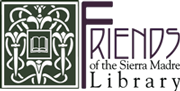 Posted 10/31/11 – There's a harvest of good books to be had at The Friends of the Sierra Madre Library's Bargain Book Table Sale, which will be held Monday, October 31, through Saturday, November 5, during the Library's open hours. Fiction, History, Politics, will be featured, as wells as books for Children and Teens.  Books are restocked daily, and are only $1.00 each.
The Friends welcome print and audio book and DVD donations in good condition. Magazines may be placed on the "Free Bench" at the back of the Library, or, if the issues have been published within the last 6 months, they can be brought to the Service Desk for the Library's magazine takeaway section. For more information, please call the number below.
The Library, located at 440 West Sierra Madre Boulevard in Sierra Madre, is open Monday through Wednesday from noon to 9 p.m., Thursday and Friday from noon to 6 p.m., and Saturday from 10 a.m. to 6 p.m. (626) 355-7186. www.sierramadre.lib.ca.us.