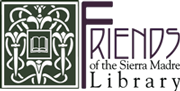 Posted 11/2/11 – The Friends of the Sierra Madre Library have an overstock of volumes that they will be selling during another Bargain Book Table Sale at the Library, Monday, November 14, through Saturday, November 19, during the Library's open hours. The featured topics will include Fiction, Mysteries and Thrillers, Current Affairs, Contemporary Culture, and books for Children and Teens.  Stop by often, as books are replenished daily, and are only $1.00 each.
The Friends welcome book and DVD donations in good condition. Magazines may be placed on the "Free Bench" at the back of the Library, or, if the issues have been published within the last 6 months, they can be brought to the Service Desk for the Library's magazine takeaway section. For more information, please call the number below.
The Sierra Madre Public Library, located at 440 West Sierra Madre Boulevard in Sierra Madre, is open Monday through Wednesday from Noon to 9 p.m., Thursday and Friday from Noon to 6 p.m., and Saturday from 10 a.m. to 6 p.m. (626) 355-7186. www.sierramadre.lib.ca.us.