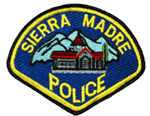 Posted 11/3/11 – During the week of Sunday, October 23rd, to Saturday October 29th, the Sierra Madre Police Department responded to approximately 260 calls for service. See crimereports.com for updated information. 
Monday, October 24th:
10:23 AM- Vandalism/$400 or More Damage, 300 blk. W. Sierra Madre Blvd.  This case involves a suspect(s) that shattered a glass touch screen in a Bank of America ATM machine. 
Tuesday, October 25th:
3:05 PM- Make Annoying Telephone Calls, 400 blk. W. Sierra Madre Blvd. This case involves the victim's ex-girlfriend leaving messages on his answering machine.
Wednesday, October 26th:
1:31 PM- Suspicious Circumstances, Sierra Madre Blvd and Park Ave. This case involves an unknown suspect(s) leaving chickens with their heads cut off on brown butcher paper.  Pasadena Humane Society responded and took the remains.
Friday, October 28th:
1:06 PM- Use Another's Personal Identification to Obtain Credit/Etc.  This case involves a victim that received her credit report and found numerous accounts and alias on the report that did not belong to her.  Her identity was compromised and numerous accounts were opened in her name.            
Saturday, October 29th:
3:09 AM- DUI Alcohol/Drugs, Sierra Madre Blvd and Park Ave.  An officer stopped a 50-year old Sierra Madre motorist for a Vehicle Code violation, and found that the driver was under the influence of alcohol.  The driver was arrested and transported to Pasadena Police Department for booking.