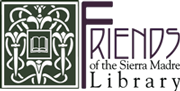 Posted 11/17/11 – With the holidays fast approaching, the Friends of the Sierra Madre Library are offering several opportunities for you to purchase the best holiday gift of all- books.  On Wednesday, November 30, from 5:00-8:00PM a Friends' members only book sale will be held in the basement of the Sierra Madre Library.  This event features holiday books, newer fiction and non-fiction, lots of coffee table books, cookbooks, collectibles, DVDs, and audio books as well as books for children and teens so you're sure to be able to find something for everyone on your list.  Not a member of the Friends?  There will be an opportunity for you to join that night.
The following weekend, the Friends of the Sierra Madre Library's Best Used Book Sale is being held on Friday, December 2, from 3:00-7:00PM and Saturday, December 3, from 10:00AM-2:00PM in the library basement and on the back parking lot.  Open to the public, this sale features classic literature in a set of the International Collector's Library and some unusual coffee table books, including cooking and contemporary culture.  These items and many other adult fiction and non-fiction books, children's books, audio books, CDs, and DVDs will be available to purchase for your reading and listening pleasure.  Tables outside the library will feature hardback and trade fiction and non-fiction for $1.00 each and paperbacks for twenty-five cents each (or five for $1.00). All children's books outside are now only 25 cents.  
These sales offer high quality, slightly used books that are culled from our library shelves or donated, books that you'll be proud to place in your own library or to give to friends and family.  So come early and come often to see what treasures you can find.  Proceeds from the Members Only and Best Used Book Sales will be donated to the Sierra Made Public Library to support program and equipment needs.  The library is located at 440 W. Sierra Madre Blvd. in the city of Sierra Madre and there is parking on the street and behind the library.