Posted 11/12/11 –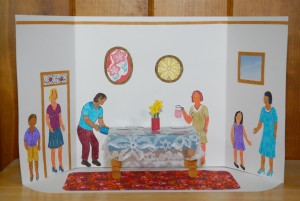 Creative Arts Group to Host Family Fun Art Project
The Family Outreach Program at the Creative Arts Group will host a FREE family art project called "Guess Who's Coming to Dinner for the Holidays?" This is a celebration of diversity. Each family will construct a 3D scene of their holiday dining room. Each member of the family will draw themselves to show how they celebrate the holidays.  The goal is to celebrate ALL families, different ethnicities, different traditions, and the joy of coming together for holiday gatherings with loved ones.
 We want each family to have a wonderful time depicting their own holiday traditions. Please share your traditions with us whether you celebrate Thanksgiving, Christmas, Hanukkah, Kwanza, the New Year, the Winter Solstice or any other traditions important to your family.
This family project will take place at the Creative Arts Group from 4 to 7pm on Saturday, Nov. 26th.
Civic Club Shoppe Sells Unique Knitted Treasures During the Holidays
If you are looking for wonderful inexpensive gifts for the holidays, look no farther than The Civic Club Shoppe! Beautiful knitted items such as scarves, hats, fingerless gloves, and many other unique hand-made creations will be available for sale at the following locations during the holidays:
November 26 at Dickens Village, 3–8 p.m.
The week of November 26 at Sierra Madre Curves, 47 W. Sierra Madre Blvd
December 2-4:  A Boutique at Foothill HomeCare Partners, 78 W. Sierra Madre Blvd., Sierra Madre – Friday, 5–8 p.m.; Saturday, 11 a.m.–4 p.m.; Sunday, 11 a.m.–1 p.m.
All items are donated by members, and the money earned goes into the Civic Club Ways and Means budget which funds worthwhile projects for local organizations and scholarships for high school seniors.
The Shoppe is a great place to find original designs that you won't find anywhere else, so don't miss these opportunities to buy unique items at great prices, perfect for holiday gifts or a special treat for yourself.
Sierra Madre Volunteer Firefighters' Association Toys for Tots
The Sierra Madre Volunteer Firefighters' Association will be hosting a "Toys for Tots" drive at the station, 242 W. Sierra Madre Blvd. from 3 to 8pm.  There will be a fire to warm your hands, and hot cider to warm your insides.  Everyone is invited to bring an unwrapped, sealed toy to the station. 
The Marine Toys for Tots Foundation enjoys one of the very best program to support ratios within the nonprofit world; 98:2.  This means that over 98% of your donation goes to our mission of providing toys, books and other gifts to less fortunate children.  The 2% spent on support principally covers fundraising expenses – not one donated dollar goes to pay for salaries or any other manpower costs.