Posted 12/15/11 –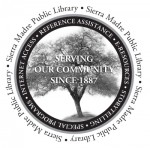 The Sierra Madre Public Library is pleased to announce The Adventures of Sherlock Holmes, by Sir Arthur Conan Doyle, as the City's 2012 One Book, One City selection.
Sherlock Holmes—the world's most famous "consulting detective," who first appeared in publication in 1887—was featured in four novels and fifty-six short stories. The Adventures of Sherlock Holmes contains the first twelve short stories, originally published in London's Strand Magazine from July 1891 to June 1892. Events will take place during February 2012 to celebrate the Scottish author and his famous detective, one of the best-known and most popular characters in English literature. Copies of the book are available at the Sierra Madre Public Library.
A "Mystery Contest" drawing will be the first event in the program. Everyone who answers three questions about the selected stories will be entered in the "Kick-Off" drawing to be held at the Library on Wednesday, February 1. The winner will receive the elegant two-volume set of The New Annotated Sherlock Holmes: The Complete Short Stories, edited by Leslie S. Klinger, who will speak at the Library on Thursday, February 2 at 7:30 p.m. Additional events will be announced.
One Book, One City annually engages the community in reading the same notable book at the same time and encourages everyone to come together to explore the literature and its cultural perspective. Doyle's tales, along with stage, screen, radio, and television adaptations, have made Sherlock Holmes a permanent part of our culture, appealing to readers and audiences of all ages.
For more information, please contact Catriona Shafer or Sophia Duran at 626) 355-7186. Sierra Madre Library is located at 440 W. Sierra Madre Blvd., in Sierra Madre.