Bean Town Christmas Benefit for SM School Performing & Visual Arts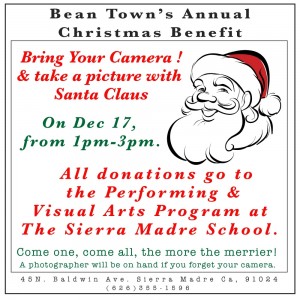 Posted 12/16/11 – Santa Claus is coming to Bean Town!!  Bring your camera and take a picture with Santa Claus, or there will be a photographer on hand in case you forget your camera.
Please stop by Bean Town on Dec. 17th between 1pm & 3pm to show your support.  All donations collected go directly to the Performing & Visual Arts programs at Sierra Madre School.
In addition, Bean Town is also a drop-off location for the Marines "Toys for Tots" program, s