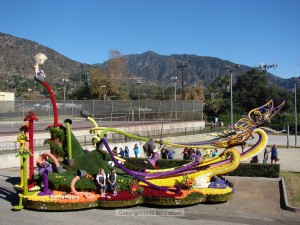 Posted 1/1/12 – Sierra Madre's 80th entry in the Tournament of Roses Parade, "Colorful Imagination" underwent final judging today alongside the tennis courts in Sierra Vista Park, in front of the Rose Float barn where it was built.  As conceived and drawn by Julio Leon, "Colorful Imagination" celebrates children's play and their unique ability to use their imaginations to create magical new worlds from ordinary, every day objects.  While the children play, they envision colorful butterflies soaring from the swirling paint.
Colorful Imagination is 46 feet long by 18 feet wide, and weighs 12.5 tons.  A 390 cu. in. Ford engine moves the 25,000 lb. float, and a second slant six Chrysler engine powers the animation on the float.  There are three crewmen under the float, Driver Dick Sappington, co-driver Mike Dolce, who is in charge of the audio system including the crew intercom system, and Dave Colcher, who is in charge of operating the animation while riding backward down the parade route.
There is a boy sitting on a paint bucket at the rear of the float, and the top of his head is the float's highest point at 25 feet.  The boy must be lowered to 16.6′ high in order to avoid hitting the freeway overpass on Sierra Madre Blvd., as well as getting the float in and out of the barn.
A variety of different colored carnations are used  on the float, along with hydroponic grass, poppy seeds, lentils, iris, and many different colored roses.  The soundtrack for the float is the song "Flight to Neverland."
There are four princesses riding the float, dressed in outfits and accessorized with jewelry donated by Angels Everywear, a woman's clothing shop in Sierra Madre.  The princesses are: Julianna Gough, a senior at South Hills High School, Kacey Benson, a sophomore at Flintridge Sacred Heart, Tracey Janzen, a junior at Alverno High School, and Alisa Unell, a senior at Alverno. 
Below the video of the judging, you will find a photo gallery of shots we took today during the judging.