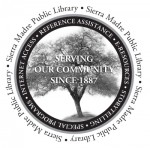 Posted 1/18/12 – If you've wanted to take computer classes, but have avoided them because you thought they'd be boring or full of incomprehensible "techno-babble, then the "MY PC" series is for you!  Sierra Madre Library staff members Jill Schofield and Gerard Brane will be teaching this hands-on, fun, and user-friendly series of 10 one-hour classes on Wednesday mornings at 10:00 a.m., beginning January 25.  These practical, jargon-free, and comfortably-paced classes will focus on how to make the most of your Windows 7 computer, and will include topics such as: "Start Here with Windows 7," "Digital Camera Tips and Tricks," "Share your Digital Photos," and "Stay Safe with Windows 7."  There is no obligation to take the whole 10-part series; you can sign up for one, a few, or all of the classes.  Being intimidated by your computer will be a thing of the past once you've experienced "MY PC!"
In addition to the MY PC series, the Library will also be offering classes in Microsoft Word and Excel. A $20.00 deposit per class is required, which is refundable upon attendance.  The deposit may also be rolled over if you wish to take more than one class.  A full listing of classes is available at the Library Service Desk and can also be viewed on the Library's website.   
For more information, please come by the Library or call Jill Schofield or Gerard Brane at (626)355-7186. The Library is located at 440 W. Sierra Madre Blvd., in Sierra Madre. www.sierramadre.lib.ca.us.