The season of Lent lasts approximately 46 days, including Sundays, between Ash Wednesday and Easter Sunday.  Since its founding in 1885,  Ascension and other churches in the Sierra Madre community have gathered to observe the weeks prior to Easter as a special time for prayer and meditation about their Christian discipleship.
Lent officially starts with Ash Wednesday, a day of penitence and reflection. At Ascension, Ash Wednesday Mass and Imposition of Ashes will be held on February 22, 2012 at 7:00 am, Noon, and 6:00 pm.  All are welcome.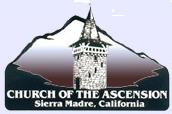 Posted 2/18/12 – The community is also welcome to join Ascension throughout Lent on Wednesdays (from February 29th to March 28th) beginning with Eucharist at 6:00 pm, Lenten Potluck Supper (soup or salad) at 6:30 pm, and this year's Lenten Program Series "Encounter with Christ in Mainstream Culture" at 7:00 pm. Each week, Ministry Intern Marianne Zahn will examine multimedia excerpts from television, movies, and the Internet discussing how today's media culture interacts with Scripture, our Christian tradition, and our lives.
Come for some part or all of this special series of reflection.  The Lenten Series is a great way to meet new neighbors and check out a wonderful community church. For more information, please call (626) 355-1133 or visit: www.ascension-sierramadre.com.