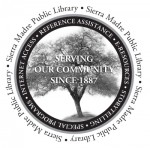 Posted 2/24/12 – Renovation of the Sierra Madre Public Library Children's Room is slated to begin the first week in April. During the makeover, Children's Services will move into the adjacent Reference Room with a limited collection of picture, fiction and non-fiction books.  The popular Preschool Story Times will continue during the six-week construction period but school class visits will be suspended for the duration of construction.
During the last two weeks of March, staff and volunteers will begin boxing about two thirds of the children's books for storage.
Improvements will include the removal of an emergency exit, replacement of windows, bookshelves, furniture, paint and carpet.  The layout of the room will be changed to create a Preschool Zone, Study Zone and Computer/Technology Zone.  Funding for the updates came from private donations raised during a year-long fundraising drive.
A ribbon-cutting will be scheduled in plenty of time for the upcoming Summer Reading Club.
The Sierra Madre Public Library is located at 440 West Sierra Madre Boulevard in Sierra Madre. For more information please call (626) 355-7186, or visit our website: www.sierramadre.lib.ca.us.