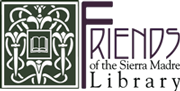 PR Posted 3/13/12 – The Friends of the Sierra Madre Library's Best Used Book Sale is being held on Friday, March 30, from 3:00-7:00PM and Saturday, March 31, from 10:00AM-2:00PM in the library basement and on the back parking lot.   Please note that this sale has been moved a week early to avoid the construction equipment that will be at the library for the Children's Room remodel that's starting in April.
Our spring sale features bound volumes of Life Magazine (1960-1972), the Saturday Evening Post (1962-1969), and National Geographic (1963-2003).  Imagine the fun you can have finding issues that were published on your birthday, your children's birthdays, your anniversary, and other dates that are significant for you and your family.  Even the advertisements are interesting to see.  What a great way to start family conversations about "the good old days".
Books that are being featured include contemporary fiction and non-fiction, many of whose titles are still included on the best-seller lists. We have Hortus Third, a giant dictionary of plants cultivated in the U.S. and Canada, as well as The American Horticultural Society's A-Z Encyclopedia of Garden Plants.  Our lavish collection of coffee table books includes many on sports and baseball history, perfect for the start of baseball season.  We also have many books for children and teens, with many pop-up books in excellent condition.
As usual, we will have our bargain tables outside.  There you will find hardback books at $1.00 each and paperbacks, 25 cents or 5/$1.00.  Children's and teen books outside are only 25 cents.   These sales offer high quality, slightly used books that are culled from our library shelves or donated, books that you'll be proud to place in your own library or to give to friends and family.  So come early and come often to see what treasures you can find.  Proceeds from the Best Used Book Sales will be donated to the Sierra Made Public Library to support program and equipment needs.  The library is located at 440 W. Sierra Madre Blvd. in the city of Sierra Madre and there is parking on the street and behind the library.