Press Release posted 3/31/12 – Come to Empty Bowls 2012, an exciting and fun-filled event to support Family Promise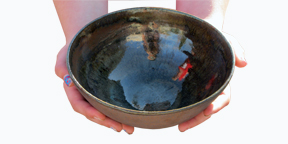 of San Gabriel Valley.
For $25, you will be able to purchase a beautifully handcrafted soup bowl donated by local artisans and then enjoy a delicious soup donated by local restaurateurs.
All proceeds will go to Family Promise, a nonprofit organization that shelters homeless families and helps them find employment and housing. As a participant, you get to take your soup bowl home as a reminder that some people have an empty bowl not by choice, but by unfortunate circumstances.
We also will have drawings for gift baskets. Local artisans, including renowned ceramist Robert Maxwell, will offer their pottery and jewelry for sale at the event. They have agreed to share a percentage of the proceeds with Family Promise.
When: 11:30 a.m. to 3:30 p.m.
Sunday, April 15, 2012
Where: Sierra Madre United Methodist Church
695 W. Sierra Madre Blvd.
Sierra Madre, CA 91024
Cost: $25 per person until April 13, payable online; after April 13, tickets are $30 at door only. Kids under 5 are free and will be served soup in a safe, recyclable plastic bowl.
Registration: http://ow.ly/9BVNB
Info: http://web.fpsgv.org/empty-bowls-2012
Contact: Karen Roberson
karen.roberson@fpsgv.org
626-569-0991
www.fpsgv.org
Our thanks to all who donated to this event:
Champion Donor (100+ bowls): Lynn Hendricks and First Christian Church Fine Arts Academy
Hero Donors (50-99 bowls): Robert Maxwell • Ramona Convent Secondary School • American Museum of Ceramic Art • Ellen Wohlstadter • www.summerartacademy.com/Clayworks/clayworks.html
Advocate Donors (1-49 bowls): Susan Hanley • East Los Angeles College • Jeanne Lavieri • George Carver • Glendale City College
Soup Donors: Absolutely Italian • The Fabiolus Cafe • Fran Garbaccio and Liz Peterson • Irma "Shelley" Johnson • Margarita's Mexican Restaurant • Souplantation • Wang's Place • Wolfe's Market
Financial Support: Monterey Park Rotary