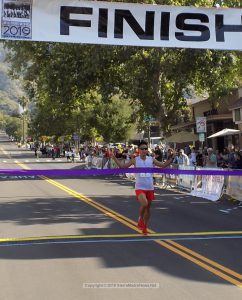 Posted 5/25/19 – Michael Eastburn (left) of Porter Ranch, CA. took first place in today's Mt. Wilson Trail Race, with a time of 1:04:38.  Second and third place went to Jacob Singleton of Glendora, and 1st Sierra Madre finisher Edward Kahl, at 1:06:47 and 1:07:53, respectively. First female finisher was Hannah Briggs (below left) of Pasadena at 1:15:15.  Just four seconds behind her was Altadena resident Haley Allen at 1:15:19, and Megan Chamoun of Santa Monica came in as the third place female finisher, at 1:21:08.
Three hundred seven folks participated in this year's race, of the 344 who registered to run.  The race was dedicated to long time Sierra Madrean and Trail Race runner Tim Osti, who passed away suddenly on Dec. 27, 2018.  His wife, Diane, was the honorary race starter.
The Star Spangled Banner was sung to kick off the race by Daniel Rodriguez, a Sierra Madre resident who first received the world's attention as the "NYPD Singing Cop" performing God Bless America at events following the tragedy of 9/11/2001.
Ralph Wilson finished the race for the 46th time, unofficially the most races ever run by one entrant.  Complete race results can be found at https://www.athlinks.com/event/34097/results/Event/858487/Course/1598406/Results.  I'll be adding a bunch of finish photos/videos as the weekend goes on, please feel free to check back.
Photos from around Kersting Court
Photos of many of the finishers from the first 90 minutes