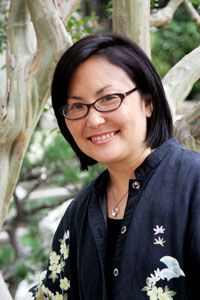 All are invited to the Sierra Madre Public Library on Thursday, March 17, at 7:00 p.m. to meet acclaimed author Naomi Hirahara.  Ms. Hirahara is an award-winning mystery novelist, children's author, biographer, and the author of numerous books on Japanese history, culture and horticulture. 
In 2004 Ms. Hirahara began a series featuring one of the most original protagonists in mystery fiction, the "reluctant detective" Mas Arai, an Hiroshima survivor, inveterate gambler, gardener and curmudgeon, who longs for the simple life, but finds instead, murder on his doorstep and wrongs that only he can right.  Her highly regarded first novel in the series, Summer of the Big Bachi, was included in Publishers Weekly Best Books of 2004, and was featured in the Chicago Tribune's Best Mystery list of 2004.  Her second novel, Gasa-Gasa Girl, received a starred review and was a Southland best seller. Snakeskin Samisen, the third Mas Arai mystery, won an Edgar Allan Poe Award for Best Paperback Original.
The intrigue in her latest book, Blood Hina, includes the theft of antique "hina dolls." Hina dolls are used to celebrate Girls Day, a beloved Japanese cultural festival held in March.  As an adjunct to the presentation, dolls from Ms. Hirahara's personal collection will be on display.
Attendees are invited to bring personal copies of Ms. Hirahara's books for signing.  Following the presentation, Japanese snack foods and Gen Mai tea will be served.  This program is free and open to the public.
The Sierra Madre Public Library is located at 440 West Sierra Madre Boulevard in Sierra Madre. For more information call (626) 355-7186, or go to www.sierramadre.lib.ca.us.