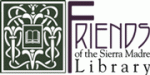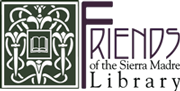 Press release posted 5/17/12 – The lazy, hazy, crazy days of summer are upon us and if you're looking for a good book to bring with you to the beach, the mountains, on the plane, or to that lawn chair under the tree in your back yard, the best place to find one is at the Friends of the Sierra Madre Library's Best Used Book Sale.  Held on Friday, June 1, from 3:00-7:00pm and Saturday, June 2, from 10:00am-2:00pm at the Sierra Madre Library, 440 W. Sierra Madre Blvd, Sierra Madre, the sale offers high-quality books that have been culled from the library's shelves or donated.
June's sale features a large collection of books about American Bungalows and the Arts and Crafts movement in home furnishings, many sports books, including several about the great American pastime, baseball, and an assortment of coffee table books about artists and art including a two-volume set of Landsdowne's Birds of the West Coast  and Georgia O'Keefe: 100 Flowers.  A diverse assortment of reference books from the Library's reference room and a collection of Life and Saturday Evening Post magazines in library bindings are also available.  In addition, we have a large number of   contemporary and classic fiction books, current non-fiction books, children's classics and pop-up books as well as DVDs, audiobooks, and collectibles.  As always, in the back parking lot there will be $1.00 books on every subject, together with paperbacks, 5/$1.00, and children's books 25 cents each.
Proceeds from the Best Used Book Sales benefit the resources and programs of the Sierra Madre Public Library.  For more information, visit our website at sierramadrelibraryfriends.org or call 626 355-7186.