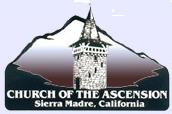 Press Release posted 5/31/12 – Sierra Madre's Village Church – Ascension – invites the community to a Choral Evensong on Sunday, June 10 at 5:00 p.m. Evensong, or Evening Prayer, is a traditional service in use in the Episcopal Church which is celebrated in the late afternoon or evening. It is commonly known as Evensong when most of the service is sung. Many of our finest church composers have written music for this specific service.
For the June Choral Evensong, Dr. Debora Huffman, Ascension's Director of Music and Organist, has chosen selections written by a variety of composers including The service will be sung by the amazing Ascension Church Choir, directed by Dr. Debora Huffman.  Music to include:
Come Down, O Love Divine (William H. Harris)

Preces and Responses (Craig Phillips)

Phos Hilaron (Robert Lehmann)

Magnificant/Nunc in C Major (Sir Charles Villiers Stanford)

Like As the Hart (Herbert Howells)

Keep Watch, O Lord (Craig Phillips)
Come, share with us the beauty of this traditional service.
The Church of the Ascension is located at25 East Laurel Avenuein Sierra Madre. For more information, please call (626) 355-1133 or visit: www.ascension-sierramadre.com.