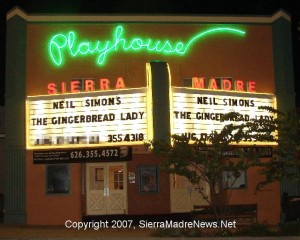 Posted 6/28/12 – Most famed as the KNBC-TV weatherman since 1982, Fritz Coleman has also won four Los Angeles area Emmy ® Awards for his comedy and specials. He has also written and starred in three plays ,"It's Me, Dad!, " "Tonight at 11!,"  and "The Reception." Fritz has performed stand-up comedy over a period of 25 years.
The July 22 performance benefits the non-profit Sierra Madre Playhouse.  Suitable for general audiences, there is no foul language nor mean-spiritedness in Fritz's comedy show.
It is anticipated that the performance will completely sell out. Avoid disappointment by reserving early.
WHAT: Fritz Coleman performs stand-up comedy and brings his unique insights to today's news.
WHERE: Sierra Madre Playhouse, 87 W. Sierra Madre Blvd., Sierra Madre, CA 91024. Ample free parking in municipal lot behind theatre.
WHEN: Sunday, July 22 at 2:30 p.m.
ADMISSION: $25.  Seniors (65+) and students $22.
RESERVATIONS: (626) 355-4318.
ONLINE TICKETING: www.sierramadreplayhouse.org