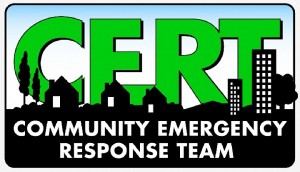 Press Release posted 8/28/12 – What started out as a simple training exercise and get-together for the Sierra Madre CERT (Community Emergency Response Team), is now a full-fledged Community event.  On Saturday, September 15th, the Sierra Madre CERT in conjunction with the Altadena CERT and the Sierra Madre Fire and Police Departments will hold a training session in the morning in Memorial Park in Fire Suppression, Cribbing, Search and Rescue and basic first aid. There will also be free material available to assist you on how to prepare for an emergency and to help you and your neighbors during an emergency before the First Responders get to you.  Following the training, there will be a get to know you picnic.
All members of CERT, Neighborhood Watch, and the general public are invited to come and watch our CERT members in action and stay for the potluck picnic.  Activities start at 10:00   o'clock and will end at 1:00 p.m, followed by the picnic.  Please bring a salad or dessert for your potluck item and join us in a get- to- know- your- neighbors activity.  Hot Dogs,  will be available for $1.00 each. Soft Drinks and water will be 25 cents each
For further information, please go to www.SierraMadreCert.org, or call De Alcorn, 626-355-4793.