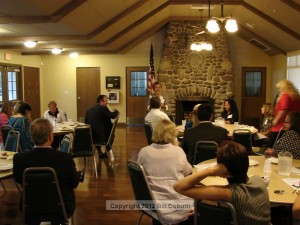 Posted 9/13/12 – State Senator Carol Liu (D), of the 21st district, who is campaigning to become the Senator for the 25th District under the recent realignment, addressed about two dozen attendees of the Sierra Madre Chamber's breakfast meeting on Monday, Sept. 10th.  Breakfast of bacon, eggs, toast, fresh fruit and potatoes was supplied by Corfu.
Chamber President Ed Chen of Athens Services introduced Board Member Ronald Garcia of SCE, who led the audience in the Pledge of Allegiance and gave the invocation.  Mayor Josh Moran said a few words and turned the dais over to Mayor Pro Tem Nancy Walsh, who introduced Senator Liu, noting her past experience as an educator, her time as a City Council member inLa Canada-Flintridge, six years as an Assemblyperson, and now as a State Senator.
Senator Liu then spoke on a variety of topics for a half hour or so before taking questions from the audience.
Chief among the topics was education, about which she lamented the "steady decline in our investment in our schools and our kids…it's costing us more and we're getting less for our money."  She stated that Prop. 13 had changed the control of the purse strings for education from local to state level, which is why she had chosen to get involved on a state level, where she sits on the Education Committee, and chairs the Higher Education Committee and the Budget Sub-Committee for Education, but added that "It's kind of a sad state of affairs when someone like me…who has spent a considerable amount of time now in Sacramento, still doesn't have a grasp, a real, you know, hold that line, grasp…about how it all works.  And I chair the budget sub-committee on education, so I control the money in the Senate side, all the monies that go to K-12 and our higher education system….because power is in information…and staff feeds you what you need to know in order to make a decision, and you don't ever really get the bigger picture, you don't get a bigger picture of how, what all the intricacies, what all the buckets are, who's doing what to whom, you don't really get a huge picture, you only get a very narrow slice of what's going on in my section of the budget."
She added that "…We whacked the heck out of our K-12 budget over years, over the last ten years, the last several years in particular, we've taken about $20 billion out of our schools, only because we can't work together in our legislature to cut and raise taxes…and that's why the Governor has framed the issue for the people come November, with Prop. 30, as to whether or not you want to make that kind of better investment and put more money back into our schools, and there really isn't a lot of money in that Prop. 30 for the schools, but it will help, over time."
She discussed the recent workers compensation program that was passed, and asked business owners to contact her if their workers' compensation costs go up, because "it's not supposed to go up."
She discussed her relationship with Republican Senator Bob Huff, and the fact that they've worked together on a couple bills, because "we just happen to get along."  One of those bills was hers, SB 204 to sell the CalTrans homes along the "710 Freeway that will never be built…", and another written by Sen. Huff, SB 161, which would allow trained school personnel to administer seizure medication in an emergency.
When asked about the delay in the Sierra Madre Middle School construction, she discussed the slow pace at which bureaucracy moves, because, she says, "they just kind of move at their own pace, a snails' pace, and with term limits, they just wait us out, they just wait us out until the next guy gets in, and then new people asks the questions for a while, and then they kind of just roll along.  And that's the kind of game that's being played, not by all, but it is a very frustrating process…but we just need to keep on prodding them."
Asked about Prop. 30 and the Governor asking for more tax money, she stated that if you don't make $250,000 a year you won't be affected, except as a consumer, due to the increase in sales tax for seven years.    She stated that in addition to raising money for education, the proposition would raise money to assist with realignment in public health and public safety, to help things move more smoothly when responsibilities are transferred from state to local levels.  She pointed out that 95% of people we send to prison come back out, and so "they have been holding cells, rather than rehabilitation services."  She praised a program in Pasadena which emphasizes housing and jobs for those leaving prison in an effort to reduce the 76% recidivism rate, noting that it cost a lot of money, "$50,000 a year to run this circle for folks who can't get themselves straightened out, and we only put six or seven thousand dollars a year for our kids in school, it's ridiculous."
She closed with a call to the people in attendance to stay involved.  "We have lots of issues, you know, in my lifetime, when I was young, I thought if I carried a placard and marched around, that would do it, that would be the change that was necessary.  Well guess what, it's a continuum, and you all need to be involved all the time, it's not just a one shot deal.  It's a part of who we are, a community's a community."