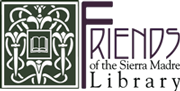 Press Release posted 9/19/22 – Summer sped by and the kids are now back in school which means that the holidays will soon be upon us.  One of the best places to start your holiday shopping is at the Friends of the Sierra Madre Library's Best Used Book Sale being held in the basement of the library on Friday, October 5, from 3:00-7:00PM and Saturday, October 6, from 10:00AM-2:00PM.  The library is located at 440 W. Sierra Madre Blvd. in the city of Sierra Madre and there is parking on the street and behind the library.
Best Used Book Sales co-chairs, Martha Troedson and Alan Leahy, tell us the sale will feature a collection of books on local history and a collection of classic reprints published with leather covers or in slipcases.  We'll also have many art books, cookbooks, and books on contemporary culture and history.   These items and many other adult fiction and non-fiction books, books for children and teens, audio books, games, CDs, and DVDs will be available to purchase for your reading and listening pleasure.
Bargain tables outside the library will feature hardback and trade fiction and non-fiction for a dollar or two each and paperbacks and children's books for twenty-five cents each (or five for $1.00). You'll also find teachers' resources and materials for sale on our bargain tables.
Proceeds from the Best Used Book Sales are donated to the Sierra Made Public Library to support program and equipment needs.   So, bring your shopping bags to the Sierra Madre Library on Friday, October 5, and Saturday, October 6, for an opportunity to purchase some of the best used books around at the Friends of the Sierra Madre Library's Best Used Book Sale.    For more information, visit our website at www.sierramadrelibraryfriends.org.