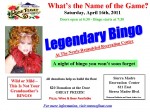 Saturday night, April 16th at 6:30pm the doors open for Legendary Bingo, the twice annual fundraiser for the Sierra Madre Rose Float Association.  Bingo begins at 7:30pm, but this is not your grandmother's Bingo.  Emceed by a drag queen, usually Belle Aire, Legendary Bingo is a raucous night of bingo, laughter, yelling and pelting.  Certain Bingo numbers have "call backs" which members of the audience are asked to enthusiastically shout out whenever they are called.  One of the cleaner ones, for instance: "Everybody's favorite vitamin" results in cries of B12 from the crowd.  Of course, hosted by a drag queen, you can imagine that many of the call backs are a little more adult in nature.
Donation of $20 is requested at the door.  Pizza, beer wine and non-alcohol beverages are available for purchase.  Popcorn is complimentary. 
Bingo winners are presented with gift baskets generously donated by (mostly) local businesses, but not until they've run a lap around the room giving the "losers" the opportunity to "pelt them" with the losing bingo cards.
Legendary Bingo will be held in the recently renovated Sierra Madre Room at the Rec. Center at 611 E. Sierra Madre Blvd.  All donations help pay to build next year's float.