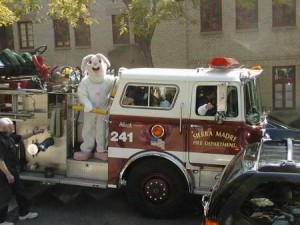 The Sierra Madre annual Easter Egg Hunt, hosted by the Sierra Madre Volunteer Firefighters Association (SMVFA)  and sponsored by Nestlé USA Inc., will be held today – Saturday, April 23rd, 2011, promptly at 10:00 AM.  The SMVFA has been hosting this event annually since 1931!
The hunt will be held in Sierra Madre Memorial Park, located on W. Sierra Madre Blvd at S. Hermosa Avenue in Sierra Madre.  Children, nine years of age and younger, are invited to enjoy Easter candy and "hunt" for the elusive 36 Golden Eggs which are redeemable for wonderful goodie baskets.  Nestlé USA Inc. is generously sponsoring this wonderful event and donating all the candy.
Please join the children, the Sierra Madre Volunteer Firefighters and Nestlé USA Inc. for a wonderful time; and keep your eyes wide open for the Easter Bunny who will arrive just before 10:00 AM on a Fire Engine to meet all the children.