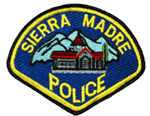 During the week of Sunday, April 17TH, to Saturday April 23RD, the Sierra Madre Police Department responded to approximately 372 calls for service. See crimereports.com for updated information. 
Sunday, April 17th:
 2:40 AM- Possession of Marijuana in Vehicle, 300 blk. N. Lima St.  An officer noticed a suspicious vehicle with two males. Further investigation revealed 0.7 grams of Marijuana and a metal canister for Marijuana inside the vehicle.  Both subjects were released with a citation and the Marijuana was taken into evidence. 
3:23 AM- DUI Alcohol/Drugs, Baldwin Ave and Grandview Ave.  An officer stopped a 21 year old Sierra Madre motorist for a Vehicle Code and determined that the driver was under the influence of alcohol.  The driver was arrested and transported to Pasadena Police Department for booking.             
2:42 PM- Attempted Residential Burglary, 1200 blk. Arno Dr.  Unknown suspects tried to open a garage door but were unable due to a shelving unit blocking the garage door from opening all the way.  Nothing was taken from the residence.  The suspect(s) fled in an unknown direction.
Monday, April 18TH:
5:18 AM- Danger to Self/Others/Gravely Disabled, 100 blk. Auburn Ave.  Officers responded to a call regarding a male juvenile that was yelling in front of a residence.  The minor was mentally ill and was taken into protective custody on a 72 hour hold for a psychiatric evaluation and treatment.  The minor was armed with a knife at the time, and officers were able to take him into custody peacefully.  Officers later collected numerous knives and swords from his home. His mother said that she had heard him mention that he had weapons. 
12:46 PM- Petty Theft, 160 blk. N. Canon Ave.  Unknown suspect(s) stole a chain, lock and sign from Sierra Madre School-Upper Campus.
1:31 PM- Residential Burglary, 150 N. Mountain Trail Ave.  The victim went on a business trip from March 27, 2011 through April 1, 2011 and he noticed that his Minolta camera and bird were missing, and his computer was vandalized.  Total loss value is $2250.  He suspects his former girlfriend may have taken the loss.
Tuesday, April 19Th:
2:05 PM- Suspicious Circumstances, 242 W. Sierra Madre Blvd.  This incident involves the possible theft of gasoline from a vehicle parked in the public parking lot, behind the police department.  The victim mentioned that she had put $5 of gasoline in her vehicle and when she went back 2-3 hours later she noticed that the gasoline was at 1/16 instead of 1/8 of gasoline filled up.     
6:51 PM- Use Another's Personal Identification to Obtain Credit/Etc, 600 blk. Woodland Dr.  This incident involves unknown suspect(s) making fraudulent charges to the victim's debit card.
Thursday, April 21St :
8:20 AM- Hit and Run/Death or Injury, East Highland Ave and Merrill Ave.  A hit and run occurred between a SUV and a skateboard.  The victim, a juvenile, received minor injuries and said that the driver drove away.
Saturday, April 23rd
9:09 AM- Petty Theft, 180 blk. Santa Anita Ct.  Unknown suspect(s) entered an unlocked vehicle parked in the driveway and stole his wallet with a Capital One credit card, AAA membership card, Staples rewards card, Ralph's card and a Costco membership card, his California driver's license, Maui Jim sunglasses, Ray Ban sunglasses, a black canvas CD case, and a USB cord.  Total loss value $530.00.
9:55 AM-Petty Theft, 300 blk. San Gabriel Ct.  Unknown suspect(s) entered an unlocked vehicle on a driveway and stole a coin purse embroidered with an Indian elephant print, a daily planner, manila envelope, wallet animal print, cellular phone charger, assorted cds, prescription glasses, and an expired California driver's license.  Total loss value $175.00. 
6:35 PM- Petty Theft, 150 blk. Esperanza Ave.  Unknown suspect(s) entered a vehicle parked on the street and stole a vintage Coca Cola cooler.
7:12 PM- Vandalism/Under $400, 70 blk. Esperanza Ave.  Unknown suspect(s) cut the cord to the cover of a motorcycle on the victim's carport.