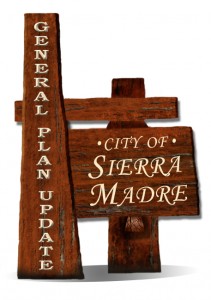 The City of Sierra Madre and the General Plan Update Steering Committee (GPSC) is seeking input from the public at a Town Hall Forum to be held at the Sierra Madre Fire Station from 1 pm to 4 pm on Saturday, May 7th.  The Fire Station is located at 242 W. Sierra Madre Blvd., right next to Memorial Park, which will be the site of the annual Friends of the Library Art Fair that day (and all weekend).  Make a day of it, start with the Firefighter's Pancake Breakfast at the Station in the morning, visit the Art Fair, and return in the afternoon to the Fire Station for the Forum!
This forum is a community wide brain storming session to help determine the vision to carry Sierra Madre into the next 20-30 years. The focus of this forum is Families, Youth, Businesses, Services, and Institutions.  This is the second in a series of forums in which the public is being asked to give the GPSC guidance as they work to update the City's General Plan.  Every city and county in California is required to have a General Plan.  A General Plan can and should be used to provide a long-term perspective that provides a basis for decision-making by City Council and appointed Commissions.  It informs community members, developers, and City staff of the ground rules that guide development within the community.  General Plans are updated about every twenty years and are regulated by the Governor's Office of Planning and Research.  Sierra Madre adopted its first General Plan in 1996.
One does not need to be a resident of Sierra Madre to participate in the forum, people who work, shop, or are otherwise involved are invited to provide input as well.  Kids will enjoy the onsite "bouncy house" and free popcorn and cotton candy. 
In addition to the forum, the GPSC is asking the public to visit the City's website to fill out an online survey of Sierra Madre stakeholders which can be found at www.cityofsierramadre.com.  Just click on "General Plan" on the homepage.  For more information regarding the Town Hall Forum, please contact Mr. De Alcorn, Secretary of Service and Volunteering at 626-355-4793, or Mr. Colin Braudrick at Braudrick@mac.com.   Information is also available on the City's website or you can send an email to GeneralPlan@cityofsierramadre.com.